At the high end, traditional electronic drum sets can sound very good. (Though when performers and producers use electronic drum kits, the majority do so as a MIDI instrument to trigger other sounds than the ones that come with the drums.)
At the low end (below roughly €900), only if you use a computer and software to play the sounds. This is because all cheap electronic drum modules only feature a few recorded samples per drum/cymbal. The vast majority of the time it is 3. Occasionally and usually only for a few cymbals, it is 5.
So on an 8-piece kit you are only playing 24 to 28 samples, not a lot of different ways it can sound. And definitely not enough to sound anywhere as good as acoustic drums that have infinite sound variations depending on how soft/hard you hit, and where.
Then there is the hi-hat pedal, where even mid range e-drums only come with 3 "voices": open, closed and half-open.
Don't be fooled by cheap electronic kits boasting hundreds of different "sounds". They are talking about individual samples. They are making up for lack of quality with quantity by offering dozens of drum pieces with only 3 samples each.
How does Aerodrums compare with traditional electronic drums?
Because the Aerodrums software runs on your computer, it is not limited by cheap electronics. And we don't compromise on quality, so it compares well with top models from Yamaha or Roland.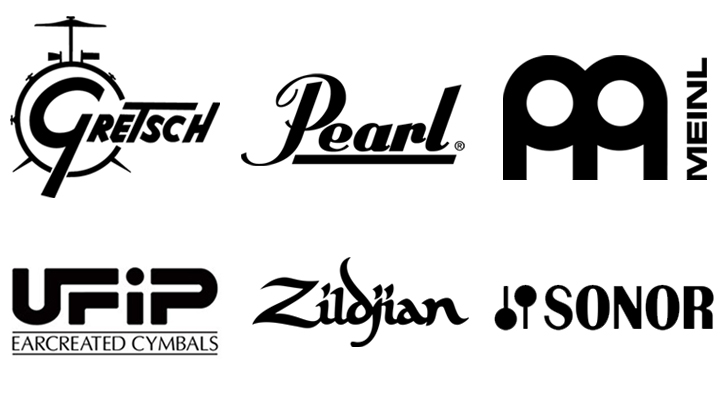 Aerodrums features 7,971 samples from 43 real acoustic drum pieces. We've recorded our instruments from brands such as Gretsch, Sonor, Pearl, UFIP, Zildjian, and Meinl.
You get as many as 100 different samples per drum. 1,000 for one hi-hat cymbal that offers 15 levels between fully closed and fully open.
Do all those samples really make a difference?
Yes, because sample libraries used by pros offer that many, as do top end e-drum modules.
But only if the instrument can tell the difference in how you hit the drums:
Traditional electronic drum sets use rubber or mesh pads that work by measuring vibrations when the stick hits the pad. So they only "work" at that exact point of impact. They can't tell which hand you hit with, so the module picks a sound at random to avoid the "machine gun effect", where the exact same sound repeats in quick succession.
By contrast, the technology behind Aerodrums tracks your drum sticks over time, including between impacts. So it can compute very accurately how soft or hard you are hitting. And it can tell which stick is which, so you get a dominant vs non-dominant hand experience.
Ready to play, out of the box
23 Drums and cymbals arranged in Rock, Jazz and Percussion kits.
Our "Big Rock Kit" features
20″ Gretsch USA Maple kick drum. Medium dampening for resonance in the low mids.
12″ Pearl Masters "All Maple" snare. Expressive and musical.
13″ UFIP "Bionic Series" hi-hats. Enormous dynamic range with focused stick sound.
10″, 12″, 14″ Gretsch USA Maple toms. Tuned for power, punch and volume.
18″ UFIP "Rough Series" crash. Bright with full sustain.
19″ Zildjian "K Series" china. Trashy with a fast decay.
20″ UFIP "Natural Series" heavy ride. Articulate and even dynamics.
But there's more…
You'll be able to download a further 20 drum pieces. For free! Including more snares, kicks, toms, cross sticks, and cymbals. And if brushes are your thing, we've got 26 pieces recorded with brushes instead of sticks.
What would you play?
Take a look at some user videos to see Aerodrums in action. Here is one that we love from Mitch Deighton:.