When there's no space for your kit…
When the neighbors keep complaining…
When you're tired of lugging drums around…
…pick up some Aerodrums
"I already know everything about it, buy buy buy!"
Aerodrums is an air-drumming instrument. It runs on your computer and understands your drumming intent by watching you drum through a high speed camera. Aerodrums is:

---

---
Aerodrums costs $160 | €120 | £100. Buy it now from Amazon, they fulfill your order. Money back guaranteed if you are not satisfied. Aerodrums is covered by a 1 year warranty.
Requirements:
Windows users may also be interested in
Aered
, our sheet music editor designed specifically for drummers.


Windows or Mac computer from 2009 or later. Aerodrums is compatible with Windows Vista, 7 and 8 and Mac OS X 10.6 and up.
Sony Playstation 3 Eye camera (not included, currently retails for $13 / €12 / £10, purchasable on Amazon for delivery with Aerodrums).
Limitation: Aerodrums cannot be used to drum outdoors in daylight.
---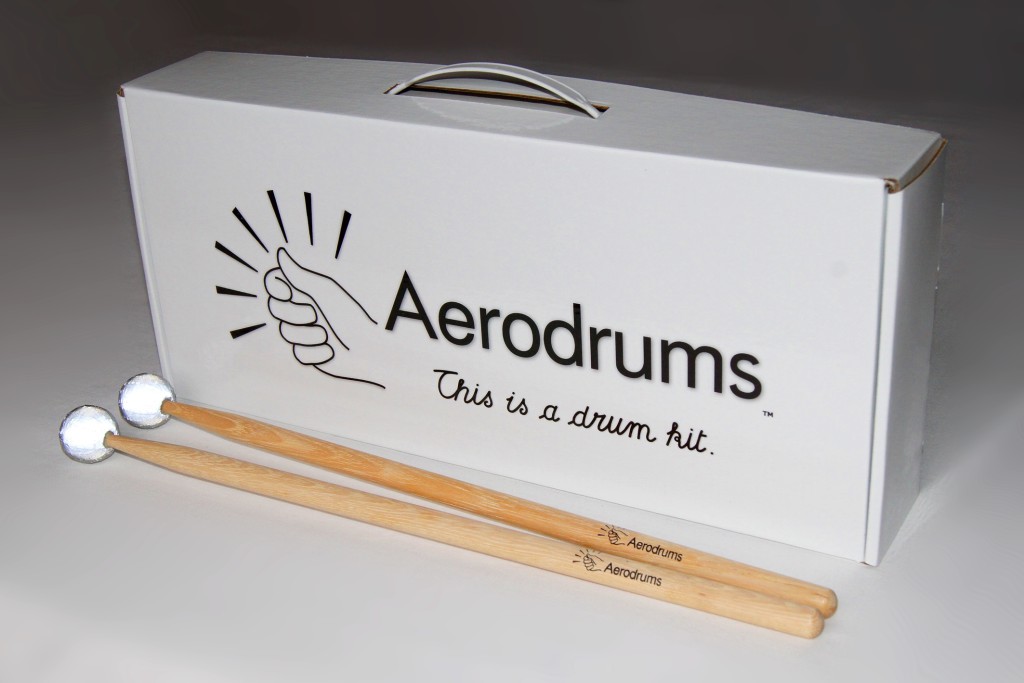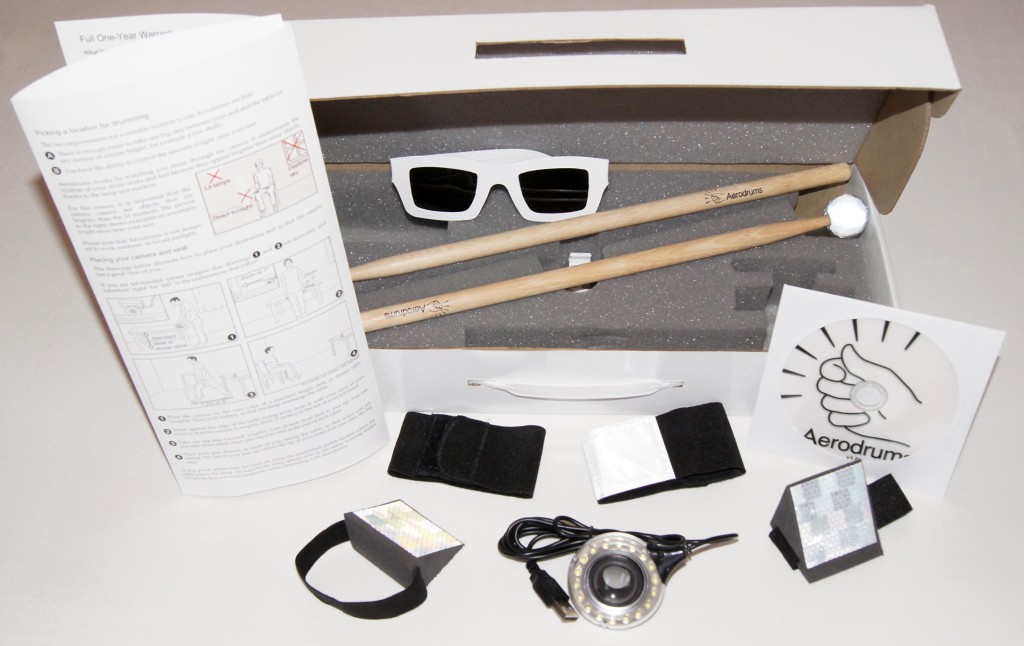 The box contains:
A pair of drum sticks
A pair of foot pieces
A pair of shin pieces
An installation DVD
A printed manual
A USB light with lens to fit to the camera
A pair of paper sunglasses to protect your eyes from the light
---
Expressiveness, realism and extensibility.
Aerodrums uses a subset of the Natural Drum Kit sample library, providing very high quality sound and expressiveness on par with a real drum kit.
For example, Aerodrums supports 16 different levels of openness for the hi-hats and uses as many as 58 different sound samples for a given openness level, per hand. Aerodrums uses different samples for the dominant and non-dominant hand.
You can point Aerodrums to your own sample collections to create new drums or cymbals to include in your drum kits. Aerodrums can also output MIDI notes as you drum, enabling you to trigger any MIDI compatible sampler (e.g. VST instruments such as Toontrack's Superior Drummer), as well as record what you drum straight into a Digital Audio Workstation. Please note: When running Aerodrums on the same computer as a DAW or sampler, you may need a more powerful computer, depending on your DAW/sampler software.
Here is a detailed list of the drums, cymbals and percussion that are sampled in the subset of the Natural Drum Kit library that Aerodrums uses:
To read news about Aerodrums, visit the
blog section
of this site. Among other things, you will learn about upcoming features and get more detail about Aerodrums and how it is used.
Snares: Yamaha Peter Erskine Signature Model, 10 x 4 and Pearl Masters "All Maple", 12 x 7.
Kick drums: Gretsch USA Maple, 20 x 16 and Gretsch USA Maple, 14 x 11 floor tom, positioned and played as a kick.
Hi-hats: UFIP 13″ "Bionic Series"
Splashes: UFIP 8″ and 12″ "Natural Series" splashes.
Crashes: UFIP 15″ and 18″ "Natural Series" crashes.
China: Zildjian 19″ "K Series".
Ride: UFIP 20″ "Natural Series".
Toms: Gretsch USA Maple 8″, 10″, 12″, 14″, 16″, one set of samples tuned for a bop sound and another set for a rock sound
Cowbell: Meinl 8" "Original Realplayer" steelbell
Tambourine
Please refer to the Natural Drum Kit manual (PDF) for more detail about the samples.
Aerodrums is not associated in any way with, or endorsed by, any of the brands named above. The Natural Drum Kit samples are licensed from Atelier Robin Inc.
---
Aerodrums is a participant in the Amazon Services LLC Associates Program, an affiliate advertising program designed to provide a means for sites to earn advertising fees by advertising and linking to Amazon.com and Amazon.co.uk.