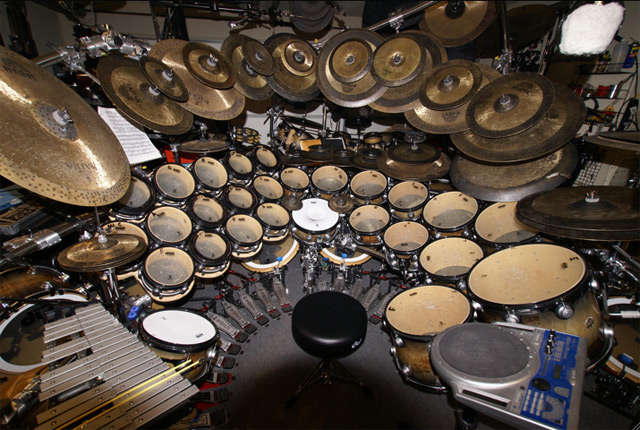 I started playing drums when I was about 9 years old. I didn't have a drumkit at first, only sticks, so I used to play on whatever household surface was nearest to me. I think it was only after enough of the furniture was pitted by drumstick marks that my parents decided to use their holiday savings on buying me my first drumkit, a brand new Premier Fusion 5-piece.
My neighbours were less tolerating of the racket I made with it than my parents. After enough complaints, we finally came to an arrangement that permitted me to play between 4 and 6pm every day. I remember getting up on a Saturday morning and waiting all day long for 4pm to roll around. If my neighbours cars were gone I used to sneak a few minutes of play.
In my early teens I started playing in my first band with friends from school. We would practice every weekend in the bass player's home. His parents had better plans for their real estate than to host my drumkit, and I didn't want to part with it during the week anyway, so I relied on my father to provide lifts back and forth. I must have wasted at least an hour every band practice setting up and tearing down my kit.
When I began college, by the time I got home in the evening, everyone else would be returning home from work expecting a few hours to relax. The neighbours would be putting their baby to sleep, etc. It was always too late to start making noise and, for lack of opportunity, I ended up not drumming at all for weeks at a time.
But enough with my life story, in the next post we'll be talking about the ideas that led to Aerodrums, and about its remarkably non-portable ancestor.